Joe Dunn
original article by Freddie Phillips
Mr. Joseph Dunn it is sad to say passed away just 42 years to the day since the first meeting was held in June 1935; he passed away in June 1977.
Now I would like it to be known that Joe had no time for any blood sports and it was a well known fact that he was connected with the R.S.P.C.A. so any supporters of fighting were not encouraged and I think this was one of the reasons that certain people turned against him.
I do not think the Club would have gained recognition with the Kennel Club if it had not been for the effective way that he used his influence that he had made as a judge and breeder of Toy dogs and I think it best to quote what Mr. H. N. Beilby said about him in 1936.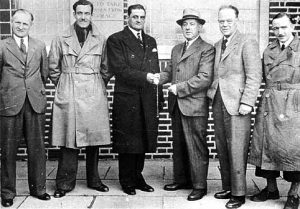 (l-r) Matt Weaver, Fred Grove, Joe Dunn, Fred Holden, H. Beilby and A. Payton Smith present Mr. Joe Dunn with a gold watch at the Woodman Hotel, Cradley Heath (then headquarters of the Club) in recognition of his services as Secretary. Joe Dunn was responsible for getting the club recognised by the Kennel Club. His great knowledge of show dogs was a wonderful asset as Joe was also Secretary of the Birmingham Show Dog Society. The Chairman, Mr. Fred Holden is making the presentation.
Our secretary, Mr. Joseph Dunn, is a great deal more than merely a secretary, he is one of the best known dog men in the Black Country. It would not be far wrong to say that he is the originator of the Staffordshire Bull Terrier Club, and certainly he and a few other old hands are responsible for the formation of the Club in 1935. He takes a very keen interest in the welfare and development of the Stafford, no trouble is too great for him where the welfare and development of the breed is concerned, and the Staffordshire breeders owe him an everlasting debt of gratitude for the time and energy he has given so generously to the variety.
The club shows that he has organised on our behalf have been models of what such events should be, and on the financial side the position is thoroughly satisfactory. As a judge he is in great request at some of our largest shows when his awards, arising from his clear sightedness and experience do much to direct the breed along the approved lines of development as set forth in the club standard.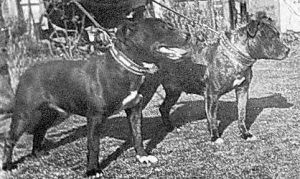 The Brigands (above) were soon to become well known and Joe owned the first champion bitch in Lady Eve. He also owned another good dog Champion, Brigands Bosun, who was sold to Mr. Arthur Payton Smith and on his good authority I can add that Joe never had a penny out of the deal. Arthur was told to pay a certain gentleman the amount of cash required for him and collect the dog and this is as much as I will say about the matter, but for the record I think one of the best dogs he ever had was a dog that was rescued by him; it was Brigands Bashum (above left with Brigands Judy). He was not shown because one ear had been ripped almost off, but he had a remarkable stud record and I would say sired more puppies than any other dog.
I was at the meeting on the Sunday moming at the Jolly Collier, Cradley Heath, when Joe resigned. He refused to turn over any books or records and it was said that they were burned, and I have always supported his action because of the way he had been treated. He had been openly slandered and abused by members he had done so much for and he left the club a very bitter man and never came back, but always remained one of the breed's top judges and a top all rounder until his retirement some 10 years ago and I had the satisfaction of driving him to his last 3 big shows at Plymouth, Sleaford and North Wales. I worked with Joe at Austin Motor Co. Ltd. in the 1930s and was connected with him with more than one breed of dog and always found him very fair and knew him in the palmy days and in the bad days of his serious muscle complaint in the arms when he had to wear a cage for 2 years.
The stories that could be told about the Stafford before the club was formed are countless and one told by the late Fred Silvers was that he bred a litter and let a fellow have the pick for 10 shillings. It turned out to be one of the best dogs at that time, but Fred said that he went for the puppy when Fred was at church on the Sunday morning and he was never paid for the dog. Now this was the thing that caused the trouble and many times when the members travelled together with their dogs to shows on the train on more than one occasion a member has come back with a black eye.